Rock Hill's Top-Rated Roof Repair and Replacement Contractor
Ben Ross Roofing is the roofing contractor to call for roof repair and replacement. With over 9 years of experience, our team has the skills and know-how to get the job done right the first time regardless of the size of the job. Our roofing services are available in South Carolina in the towns of Rock Hill, Fort Mill, Chester, and Lancaster, and in the cities of Charlotte, Concord, Gastonia, and Statesville in North Carolina.
We're Your Local Residential Roofing Experts
Ben Ross Roofing is a local, family-owned and operated business. Also, our owner, Ben, was born and raised in Rock Hill, SC. As roofing service specialists, we are dedicated to providing the best possible roofing services in the area. Whether you have a new construction project or have a roof that needs to be repaired, we offer the roofing services you need.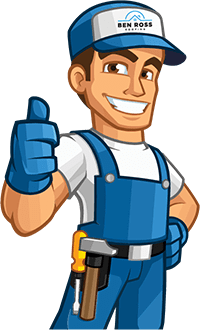 Customer Satisfaction
is Our Priority
We strive to save you both time and money by combining our superior roofing knowledge, high-quality materials, and skilled labor, with our commitment to delivering exceptional service.
We offer FREE estimates for all jobs. Contact us to discuss your roofing needs with our experienced team.
Types of Roofs We Install
Metal
Asphalt Shingles
Engineered Roofing Systems
TPO (Commercial Use Only)
We Go Above and Beyond for Our Customers
At Ben Ross Roofing, we take extra steps to ensure we're providing the best service to our customers. We realize that many people may be afraid to claim a roof on insurance. We are experts at helping to navigate through the insurance claim process and can help save you money. If your roof has been damaged by hail or a storm, it's a good idea to reach out to us to successfully submit an insurance claim. Trust the professionals at Ben Ross Roofing!
NORTH CAROLINA:
Concord NC, Charlotte NC,
Gastonia  NC, Statesville, NC
And surrounding areas
SOUTH CAROLINA:
Chester SC, Fort Mill, SC,
Lancaster SC, Rock Hill SC
And surrounding areas
Hours of Operation:
Monday - Friday: 8am - 5pm
Saturday - Sunday: Closed
Please Mail Payments To:
3280 Collins Road
Edgemoor, SC 29712