Gutter Installation in Rock Hill, SC
At Ben Ross Roofing, our team of gutter experts is committed to delivering top-notch services for all your gutter and roofing needs in Rock Hill and the surrounding areas. Whether you are facing issues with your gutters or require any roofing concerns addressed, we are here to help.
With years of experience and expertise with roofing and gutter services in Rock Hill, South Carolina, we strive to offer exceptional solutions and ensure your satisfaction.
We Ensure Proper Gutter Installation
When it comes to gutters, we understand the importance of having the right type and proper installation. That is why we provide various options for metal gutters, ensuring that they are suitable for your specific requirements. Our team ensures that each gutter is accurately sized and correctly placed to effectively divert rainwater away from your property, protecting it from potential water damage.
We Take Pride in Our Workmanship and Attention to Detail
Skilled Gutter Installation with Reliable and Long-Lasting Results
Our gutter experts are highly skilled and dedicated to delivering reliable and long-lasting results. We understand the significance of a functional and well-maintained gutter system, as it plays a crucial role in safeguarding your home or commercial property.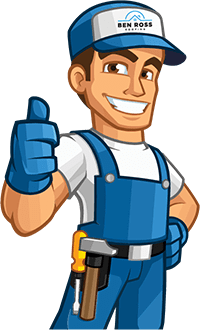 Customer Satisfaction is Our Priority
We Ensure Clear Communication From Beginning to End of Each Project
At Ben Ross Roofing, we believe in providing exceptional customer service throughout the entire process. From the initial consultation to the completion of the project, we maintain clear communication and prioritize your needs and preferences. Our team is always willing to address any concerns you might have to ensure your peace of mind.
We Are Committed to Exceeding Your Expectations with Our Integrity and Skill
Whether you need gutter installation, repair, or maintenance services, you can trust Ben Ross Roofing to provide high-quality solutions. We are committed to exceeding your expectations and maintaining the integrity of your property. Contact us today to schedule a consultation or learn more about our extensive range of gutter and roofing services.
Choose Ben Ross Roofing
Been Ross Roofing is a go-to company for gutter installation in Rock Hill and surrounding areas. We have built a reputation for providing services at a level that meets and exceeds the expectations of our customers. Contact us today to learn more about our gutter installation services and see the difference we make.
We offer FREE estimates for all jobs. Contact us to discuss your roofing needs with our experienced team.
Hours of Operation:
Monday - Friday: 8am - 5pm
Saturday - Sunday: Closed
Please Mail Payments To:
3280 Collins Road
Edgemoor, SC 29712