Residential Roofing in Rock Hill, SC
Ben Ross Roofing is your trusted partner for all your residential roofing needs. Our team specializes in providing high-quality roofing installation services that combine expert craftsmanship and top-notch materials.
We offer a range of roofing options tailored to your specific requirements, ensuring a durable, attractive, and dependable roof for your home.
Our Roofing Services
We take pride in delivering exceptional residential roofing installations at Ben Ross Roofing. Our services encompass a variety of roofing types to suit your preferences and needs.
Types of Roofs We Install
Metal Roofs
Elevate the durability and aesthetics of your home with our metal roofing solutions. Metal roofs are known for their longevity, energy efficiency, and contemporary appeal.
Asphalt Roofs
Opt for the classic charm of asphalt shingles that provide reliable protection against the elements. Our expert installation ensures not only longevity but also enhanced curb appeal.
Engineered Roofs
Experience the perfect blend of style and performance with our engineered roofing options. These roofs offer the appearance of various materials while delivering enhanced durability.
TPO Roofs
Explore energy-efficient roofing solutions with TPO (Thermoplastic Olefin) roofs. These roofs offer UV resistance, low maintenance, and impressive thermal performance.
Why Choose Ben Ross Roofing?
With years of experience in the industry, Ben Ross Roofing is the ideal choice for your residential roofing installation.
Here's Why You Can Trust Us:
Skilled and Experienced Team
Our team of roofing experts brings years of experience and expertise to every project.
High-Quality Materials
We use top-quality materials to ensure the longevity and performance of your roofing system.
Precision Installation
Our meticulous approach to installation guarantees a roof that's not only functional but also aesthetically pleasing.
Enhanced Curb Appeal
A well-installed roof not only provides protection but also enhances the overall curb appeal of your home.
Exceptional Customer Service
We prioritize your satisfaction and guide you through the entire roofing process with professionalism and care.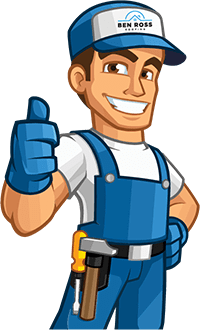 Choose Ben Ross Roofing
Ready to upgrade your residential roofing? Contact the experienced team at Ben Ross Roofing to schedule a consultation. We're here to assist you every step of the way and ensure you get a roofing solution that meets your needs and exceeds your expectations.
We offer FREE estimates for all jobs. Contact us to discuss your roofing needs with our experienced team.
Hours of Operation:
Monday - Friday: 8am - 5pm
Saturday - Sunday: Closed
Please Mail Payments To:
3280 Collins Road
Edgemoor, SC 29712